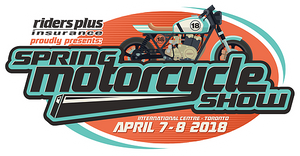 Stories of the Road: Spring Motorcycle Show
So you missed the first Motorcycle show back in January? Are you upset with yourself? Well you should be but don't worry,
the Spring Motorcycle Show
is just around the bend. April 7-8 at the International Centre in Toronto to be exact! 
You're probably asking yourself, why should I go to this show? Well put your helmets on, we're about to tell you!
About
For those who have never been to the show, let us give you a quick rundown of what to expect, if this isn't your first rodeo by all means skip this part we won't mind too much. The Spring Motorcycle Show, is the last big indoor show in Toronto before riding season really starts (we're hoping Mother Nature can stop teasing us with this spring like weather and let the rain wash the salt & sand away).
This will be the 28th Annual edition of the show (that's a lot of shows!) and it all started back on Sunday, April 22nd, 1990. Back then it was originally called the "International Swap Meet & Vintage Motorcycle Show", it has obviously changed it's name since then! Listed in the About section are some fun facts like:
There are also 50 motorcycle clubs and associations exhibiting this year
There have been 3 marriage proposals at the Spring Motorcycle Show (so far)!
Over 200 motorcycles are purchased each year at the Show! So if you are looking to sell, this is a great place to do it!
It's a great place to look for your next bike or your first as many local dealers will have exhibits at the Show!
Our favourite part: the Show is produced for motorcyclists by motorcyclists!
You can read more by visiting the Spring Motorcycle Show's About Page
Features & Events
This year the Spring Motorcycle Show has brought back some classic features and have introduced some new events that we're excited to see!
 Barn Find Display
New this year at the Show, is the Barn Find display! We are very excited for this particular display, because we ride our own barn find (check out our blog post about finding your own Barn Find). The Show is aiming to showcase for some great examples! Rusty heaps or beautifully patina'd ready-to-rides, they want to display the rides just as they were found!
The 5th edition of this fantastic feature! The Show does a fantastic job of showcasing the ever growing demographic of female riders. As per the site, the feature will be in Hall #1, and will be a great way for female riders of all ages and backgrounds to meet some inspirational riders! We look forward to meeting the great riders that are being showcased and hearing the stories they have to tell! 
Some of the other great features and events include:
Classics on the Red Carpet
Motorcyclists of the Year
Custom Show Bikes
Used Bike Market
Pickers' Market
Exhibiting Clubs
Race Stars of Tomorrow
and much more!
 The Show is just around the corner and so is riding season! So bring the family, riding buddies or someone who is thinking about getting on two wheels! It's a great time for everyone and we hope to see you there!
Also here's a great deal if you buy your tickets online you can save $3 per ticket! You can purchase your tickets here.
---