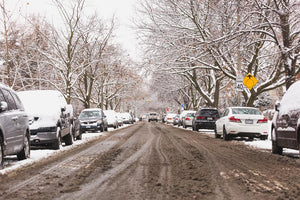 Winter Prep for your Ride
As the thermometer drops it can only mean one thing: Winter is coming. Here are 7 easy tips to help you keep your ride in top shape for next season:
1. Fill that tank up!
Top up your tank. That was easy, right? Well after you've done that, check your bike's recommended fuel stabilizer as well. Why do this? This will help keep the gas from deteriorating and leave a layer that you will need to clean off your carbs. Important to run it for a few minutes so the new mixture can go through all the necessary components.
2. Top up the other fluids
Be sure to check the brake, clutch, and coolant fluids, replacing or refilling if necessary. Always check for what your specific bike needs!
Important, if you're like us and it gets really cold check your bike's antifreeze to prevent engine freezing. Don't forget to lube up the throttle, kickstand, shifter, and clutch cables to prevent moisture accumulation and rust (because no one likes rust).
3. Change your oil
This one speaks for itself.
4. Save that battery
If you ride an old bike, take it out and store it somewhere warm and cozy. If it is a newer model, make sure to top it up with a full charge and check on during those dark cold times! 
5. Tend to your tires
Have a center stand? Well lucky you! If not and you can get the bike off the ground do it! Otherwise fill those tires to the maximum recommended amount. Rotate your front tire once a week to prevent flat spots from forming.
6. Store it clean!
If you have metal on your bike, which you definitely do, it best to ensure the non coated areas are protected. Wash your bike, give it a good clean and dry thoroughly. You can also spray WD-40 on your exhaust pipes and a clean towel in the intake! This really helps keeps the squirrels out!
7. Cover up!
The sun can damage those sweet custom leather seats, so get a proper fitting cover or in a place that will keep the bike out of direct sunlight and out of the snow of course!
What's next?
Bundle up take out your winter rides (some people call them cars) or a snowmobile and hope that Spring is in the express lane (short winters are always fun)
---